Together with community, we will advance equity in aging.
We share a sense of urgency as communities grapple with growing inequities and changing demographics.
Point32Health Foundation's equity in aging strategy is guided by the Foundation's north star, our mission and the core principles of our philanthropic approach. Grounded in and responsive to community context, it is relevant to where we are today, builds on the legacy of our predecessor foundations and is designed to grow as we learn from community.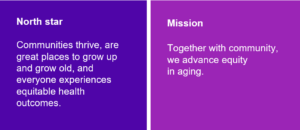 This is an evolution for the Foundation. Still, we remain committed to following community's lead—engaging as an advocate, capacity-builder, catalyst, convener and funder.
The Foundation's new focus is the outcome of hundreds of hours of thinking, conversations and reflections with communities in the states we serve. So, it is with gratitude and deep appreciation that we acknowledge the leaders and organizations who shared their wisdom and insights through listening sessions, focus groups and conversations. We are humbled to take this journey alongside you. It cannot happen without you
Renewing and deepening Point32Health Foundation's commitment to equity in aging will improve conditions for those bearing the greatest risks and burdens of inequitable systems over their lifetime. Essential for communities to thrive and for individuals to experience a high quality of life, we must look upstream to address the societal issues that contribute to inequity. Equitable access means eliminating systemic racism, including barriers that limit opportunities. Expanding age-friendly communities positively impacts people of all ages and abilities.
Relationships based on
Equity
Being anti-racist
Using inclusive language to advance asset-based approaches in our work
Transparency
Monitoring our progress, engaging in learning, increasing our understanding, and identifying where we can support strong work
Identifying and addressing gaps
Learning from community and sharing lessons
Humility
Being grounded in and responsive to community context
Being accessible, a "good listener," a follower of those doing the work
Trusting what community organizations say, acting on what they share
Having community define "older people"
Changing inequitable systems from community perspective
Community-led solutions
What we will focus on for impact
Upstream work addressing community factors that affect the health of older adults (i.e., root causes and the social determinants; we do not offer grant funding for medical care)
Continue to support food systems and mental health, key factors to address when tackling equity in aging
What we will fund
Capacity-building defined by in organizations that are for, by and about communities of color and others experiencing systemic barriers
General operating grants
Multi-year grants
We will support organizations that
Work on community-based interventions
Engage in initiatives with the potential to dismantle racist systems
Work in historically disinvested communities—especially communities of color and others experiencing systemic barriers—and those connected to the people they serve
Use disruptive approaches to influence systems beyond individual organizations
Show promise—they may be unproven—and take risk
How to define older people
We believe those most proximate to an issue are best positioned to define older adults in their community because people's experience of aging is based on lived experience. When people of color, people with disabilities and people who face systemic barriers grow older, a lifetime of inequities exacerbate health disparities.
Sign up for our Newsletter
Stay connected and informed on initiatives in communities throughout New England. Sign up to get news and updates from Point32Health Foundation delivered to your inbox.
Sign up