Point32Health Foundation will fund initiatives that increase access to affordable, nutritious food, promote mental health, and advance healthy aging through 2024—prioritizing work that addresses systemic inequities.
In 2025, Equity in Aging becomes the lens through which we address the social determinants of health.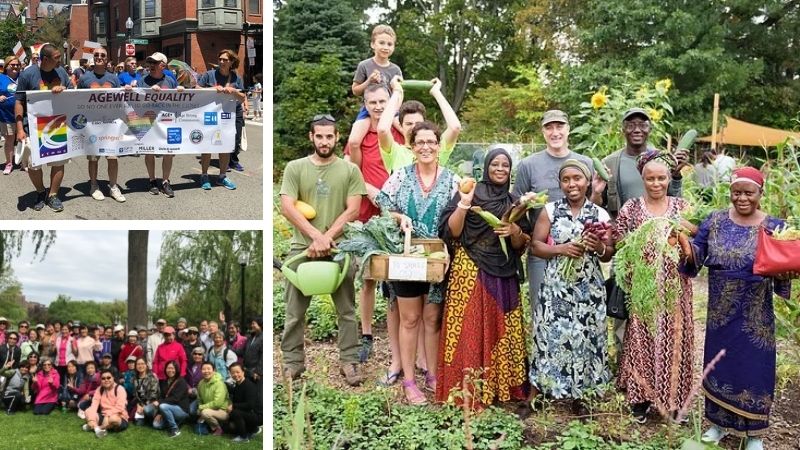 Photos courtesy of ETHOS, Quincy Asian Resources and Grow Nashua.
We invest in nonprofit organizations and community-led solutions that address systemic inequities in Connecticut, Maine, Massachusetts, New Hampshire and Rhode Island.
In 2022 our grantmaking honored existing relationships and commitments, while also working proactively to engage new organizations in new ways.
In 2023, we continue to build on what we learned from community conversations:
Systemic inequities cause health disparities
Those most affected by inequities are in the best position to define the problem, design appropriate solutions and describe success
Older people and communities of color are disproportionately affected in a public health crisis
Supporting organizations working to advance healthy aging, improve access to affordable, nutritious food and promote mental health—especially those in communities most affected by inequities.
Collaborations among nonprofit organizations, municipal agencies and others strengthen community response in a crisis
We support organizations that
Work on community-based interventions
Engage in initiatives with the potential to dismantle racist systems
Work in communities historically disinvested—especially people of color and others experiencing systemic barriers—and connected to the people they serve
Use disruptive approaches to influence systems beyond individual organizations
Collaborate to expand impact
Show promise—they may be unproven—and take risk
We do not fund
Candidates for public office
Capital projects and/or equipment
Development activities, such as fundraising events, capital campaigns, or annual fund drives
Endowments
Government agencies (unless within a collaboration led by a community-based organization)
Individuals (including scholarships, internships, and/or fellowships)
Lobbying
Organizations that advocate, support or practice discrimination based on race, color, religion, age, national origin, language, gender, gender identity, sexual orientation, disability, veteran status or other characteristic protected by law
Private foundations
Religious organizations for religious purposes
Research for specific disease states
Underwriting of medical expenses