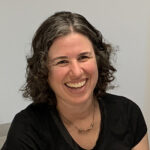 Stacey heads Point32Health's Corporate Citizenship strategies, which include colleague giving, volunteering and nonprofit board service; annual signature programs such as Volunteer Week, the Walk to End Alzheimer's and #GivingTuesday; and leadership of a cross-functional team to support enterprise-wide sponsorships.
In her first role at the Foundation, Stacey spearheaded communications and was instrumental in planning, building and operationalizing Corporate Citizenship, which as a function did not exist at Tufts Health Plan, and is now locally and nationally recognized.
Before her work with us, Stacey spent more than 15 years in public relations. Most recently she was executive vice president for Greenough Communications, where she managed account services, media relations, social media and content development programs. Stacey graduated from Tufts University with a bachelor's degree in economics and earned her certificate in corporate citizenship management from the Boston College Center for Corporate Citizenship. Stacey is an alumnus of the 2016 class of LeadBoston, a socially responsible leadership program through YW Boston.
Phone: 781-612-4741
Email: Stacey.Mann@Point32Health.org