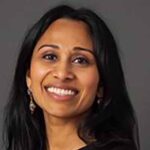 Christina serves on the Foundation's Community Investments team. She manages grants and other key community initiatives, nurturing the power of partnership to build healthy, equitable communities.
Christina brings significant public health experience to her role. Prior to joining the Foundation, she served as a health communications consultant to nonprofit organizations and state agencies. She also managed tobacco control policy priorities and cessation programs at the Rhode Island Department of Health. Earlier in her career, Christina worked in global health on community health worker programs in India and health systems work in Lesotho. Her perspective and approach are informed by her health promotion work at the community and state level.
Christina is active in her community, recently serving on the Needham Board of Health and the Needham Vaping Prevention Taskforce. She also is on the Board of the Needham Education Foundation and volunteers with the Wellesley Village Table, a community food service program. Christina has a master's degree in Public Health from Boston University and a bachelor's degree from Austin College.
Phone: 781-612-8736
Email: Christina.Mathews@Point32Health.org