Creating a culture of inclusion
Live Well Springfield
How did Springfield, Mass., become the first city in the nation to apply for and receive three age-friendly designations? Three words: Time. Tenacity. And collaboration.
In June 2019, Springfield, Mass., became the nation's first city with three age-friendly designations. Committed to improving the quality of life for older people, the western Massachusetts community is an Age-Friendly City, a Dementia-Friendly City and earned the Age-Friendly Health System designation.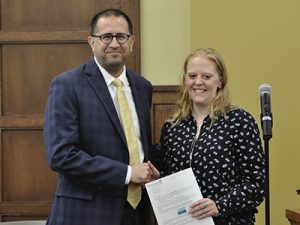 It was a perfect trifecta that seemed to come all at once. The reality was quite different. It took time, tenacity, many teams of hard-working people and "a lot of collaboration with community partners," said Samantha Hamilton, Live Well Springfield manager for the Public Health Institute of Western Massachusetts.
So how did Springfield become so focused on and committed to its older people?
It started with the community engagement cultivated by Live Well Springfield, a coalition of more than 25 organizations united by one common mission: build a sustainable culture of health in Springfield.
Springfield's coalition is inclusive and welcoming, reflecting the diversity of the city itself. Representatives from city departments and regional transits participate alongside Baystate Medical Center, and age-friendly and dementia-friendly advocates.
Including older people in the conversation was critical. "We galvanized a coalition of residents to look at age-friendly determinants. What we learn from residents drives the work. They are at the table," said Hamilton.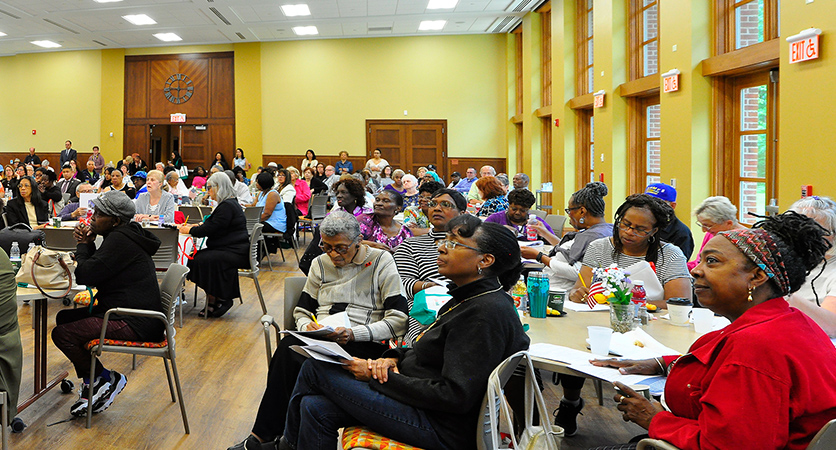 Learning from other communities also enhanced the group's work. "It was important to get guidance from the Massachusetts Healthy Aging Collaborative," Hamilton said. "This helped us understand what was done in other cities."
Data-Driven and Culturally Humble
Live Well Springfield invited residents to participate in walk audits, surveys, focus groups and workshops. Altogether, they engaged more than 300 older people from across the City of Springfield. Older adult advocates played a vital role, traveling to neighborhoods throughout the city to listen to older people.
"Priorities, decisions and resource allocation would be equitable, data-driven, built on trust and culturally humble."
Data from the Massachusetts Healthy Aging Data Report added to the community input and informed an action plan, which focuses on transportation and housing using a racial justice/equity lens. The group agreed "priorities, decisions and resource allocation would be equitable, data-driven, built on trust and culturally humble." They also committed to working across sectors – policy, systems, programs and environment – and to begin undoing structural and institutional racism to ensure long-term success.
The "City of Firsts" is on a path to becoming a great place to live, grow and age well.
Key Partners and Real Results
The coalition also leveraged grants from national and regional funders, including Tufts Health Plan Foundation.
The capstone of this work was being recognized as a Dementia-Friendly City by the Massachusetts Councils on Aging, earning the Age-Friendly Health System designation from the Institute for Healthcare Improvement and joining AARP's Network of Age-Friendly States and Communities.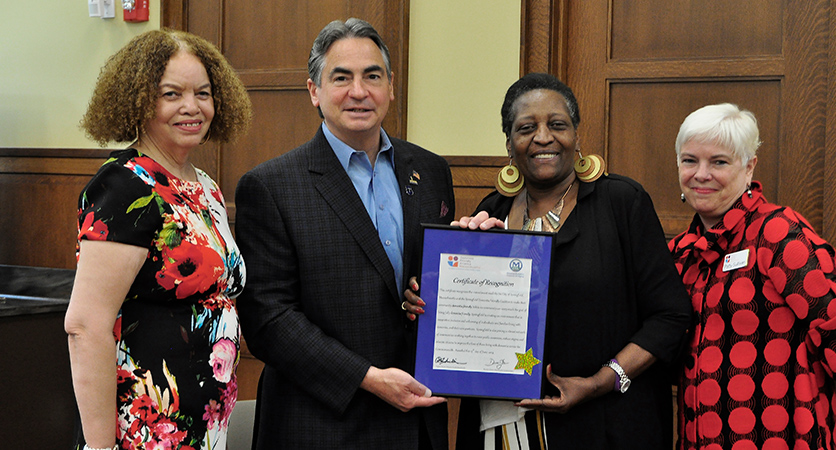 Hamilton cited the City's Department of Elder Affairs and Greater Springfield Senior Services, Inc. as "great partners" and Synthia Scott-Mitchell of the Springfield Dementia Friendly Coalition as instrumental in reaching dementia-friendly status.
"The only way we could have accomplished so much in a short period of time was through collaborative partnerships," said Scott-Mitchell. "The mayor and the city's department of health and human services have played a pivotal role, too."
"We've been working towards this for years," said Dr. Maura Brennan, chief of Baystate Medical's Division of Geriatric and Palliative Care. "There is still a great deal to be done, but to be in the vanguard of this movement is just unbelievable."
But it's not so unbelievable when you consider what Springfield did. They set attainable goals, joined forces and moved forward with a common purpose.
Common Purpose, Promising Outcomes
How has Springfield fared since it first committed to improving life for its older people? Samantha Hamilton looks at it this way: "We're putting all this energy to putting Springfield on the map," she said. "Think about all the opportunities that could come now that we're raising awareness. That's our commitment going forward – to make Springfield a great place to age and live."
An example of how these accomplishments help the city's residents is a mobile organic fresh produce market. Now, the mobile "shop" pulls up at places where older people live and congregate (like the library and medical center). Live Well Springfield launched the initiative in response to feedback from older residents about limited access to healthy food choices.
"We believe there's so much to be done now that the spotlight is on us," Hamilton said. "But it also means more resources can come to us. We have great momentum, and this is the spark to think about how much more we can do."
Photos courtesy of Live Well Springfield.