Building economic security
Massachusetts Senior Action Council
The Massachusetts Senior Action Council celebrated a signature legislative victory this year: Governor Baker's 2020 budget eases health care costs for 40,000 older people with low incomes.
Over 30% of older people in Massachusetts with low incomes spend almost a quarter of that income on health care. Medicare Savings Programs (MSPs) help ease that burden.
But for decades, the MSPs were available to just a fraction of those who needed them. Now more older people can access this benefit, thanks to new legislation signed by Governor Baker in September 2019.
The Massachusetts Senior Action Council (MSAC) is a grassroots, senior-run organization that takes on public policy issues affecting the health and well-being of older people. A grantee since 2013 and the only agency of its kind in the nation, MSAC fought hard for this victory and continues to do work we're proud to support.
"MSAC helps older people discover their potential for advocacy and speaking out. We have people in their 60s, 70s and 80s who are willing to testify. We are empowering ourselves," said Edna Pruce, MSAC's statewide president, senior advocate, Ethos board member and retired Air Force nurse who is 86 years old. "I never thought I'd be standing in front of legislators to advocate for something that makes a difference. This is what organizations like Tufts Health Plan Foundation support."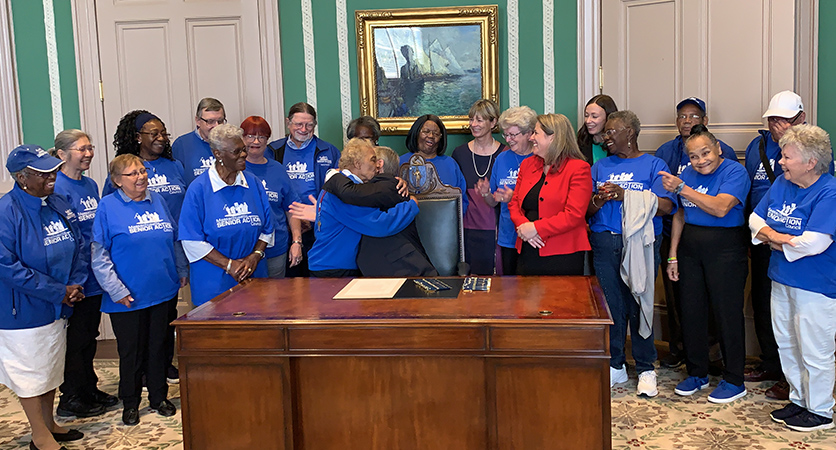 MSAC has been a leading advocate for changes to the state's MSPs for over five years. Medicare is a federal program that provides health coverage for people over 65 or those under 65 with a disability. MSPs help eligible people with some out-of-pocket costs, including Medicare premiums, deductibles, copays and coinsurance. But, according to MSAC, older people on average spend three times more for healthcare than their younger counterparts, and out-of-pocket spending continues to increase with age.
The math simply didn't add up.
Big Budget Boost
The budget Governor Baker signed in September made more older people with low incomes eligible for MSPs. Previously, eligibility was limited to people with annual incomes below $16,400. The FY 2020 budget expands eligibility to people with annual incomes up to $20,000. It also doubles the asset limit.
This expansion reduces Medicare costs for 40,000 people.
In real terms, changes to the program save older individuals in Massachusetts up to $2,081/month; for couples, the savings is $2,818/month.
"Healthcare costs were squeezing out people's ability to afford food," said Carolyn Villers, MSAC's executive director. "Our members said we have no choice – this is something we need in order to survive."
Problem, Meet Solution
The policy changes bring some comfort to a population in dire need of economic security, but more needs to be done.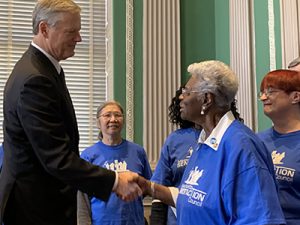 Older people who live alone in Massachusetts are more economically insecure than those in any other state. Between fixed incomes, rising real estate and maintenance costs, and taxes on older housing stock, the financial burden is greatest in Massachusetts.
"We are going to continue working to expand eligibility, because Massachusetts is at the bottom of the economic security index," said Pruce.
"This is a huge achievement and yet this is just the first step," said Villers. "There are many who are still paying too much. So there's a deep commitment among folks to ensure their peers are not left behind."
MSAC'S Next Move
MSAC's goal is to raise the MSP limit to 200% of the federal poverty level. (The 2020 budget moved the state from 135% to 165%.) Villers notes that 13 other states have already reached a more equitable level, including Indiana (185% of the federal poverty level), Connecticut (250%) and D.C. (300%).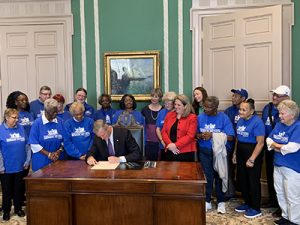 The strategic support of MSAC is a shining example of how the Foundation operates at a state level: MSAC crafted a proposal that advanced the debate about how to help economically insecure older adults. That proposal generated buy-in from the governor and legislature. Ultimately, the state adopted it as policy.
MSAC's work on behalf of the state's older people with low incomes speaks volumes about the strength of Massachusetts networks and the power of collaboration. And as a foundation, we know it's exactly the kind of work that leads to systems change.
"There's still lots of room for us to step forward," Pruce said. "Part of it comes down to not separating older people from the rest of the work around healthcare."
Photos Courtesy of the Massachusetts Senior Action Council.
Reframing Aging
Tufts Health Plan Foundation 2019 Annual Report
Read report