LISC Rhode Island
Isolation can take its toll on older people—even affecting our health. In Central Falls, R.I., an innovative new intergenerational program works to change all that.
Maria Bashide never expected to "spill tea" with a squad of teenage girls. But thanks to the Intergenerational Farmers' Market Project developed by the Local Initiative Support Corps (LISC) of Rhode Island, the 87-year-old from Cabo Verde has an intimate bond with a vibrant group of 16-year-old Central Falls neighbors.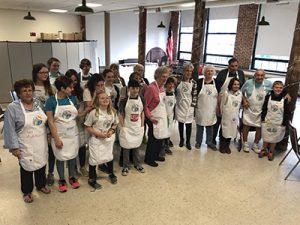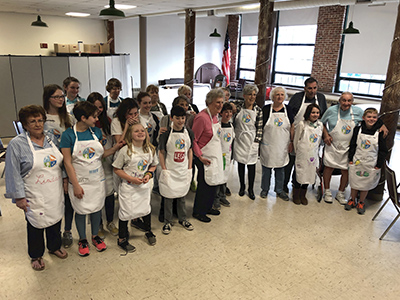 Bashide's story illustrates what is possible when innovative solutions address the challenges of isolation and malnutrition common among older adults.
Produced in conjunction with the Central Falls Housing Authority, Farm Fresh Rhode Island, Rhode Island Black Storytellers and Rhode Island Latino Arts, LISC's intergenerational program pairs healthy food with storytelling, movement and crafts. The initiative was piloted in Central Falls, an area identified as a Health Equity Zone (HEZ) by the Rhode Island Department of Health. These communities have experienced significant health inequities and are eligible for additional resources to address the social determinants of health.
Learning On a Small Scale
Where we live, work, play and grow affects 80% of individual health, according to the Centers for Disease Control and Prevention. That's why the Rhode Island Department of Health, Division of Community Health and Equity, Health Equity Institute focuses on eliminating health disparities and promoting healthy communities.
In some ways, the state of Rhode Island is a microcosm of the challenges that come with changing demographics. While the state is the smallest in area , many Rhode Islanders experience the same generations-long social, economic and environmental inequities – and the accumulation of these inequities contribute to health disparities in older people.
A strong sense of community is an important social determinant of health, so it's key to keep older people engaged in community activities. With the farmers' market program, LISC Rhode Island bridges generation gaps and reduce the social isolation many older people experience. In the process, they also improved access to fresh food for people with low incomes.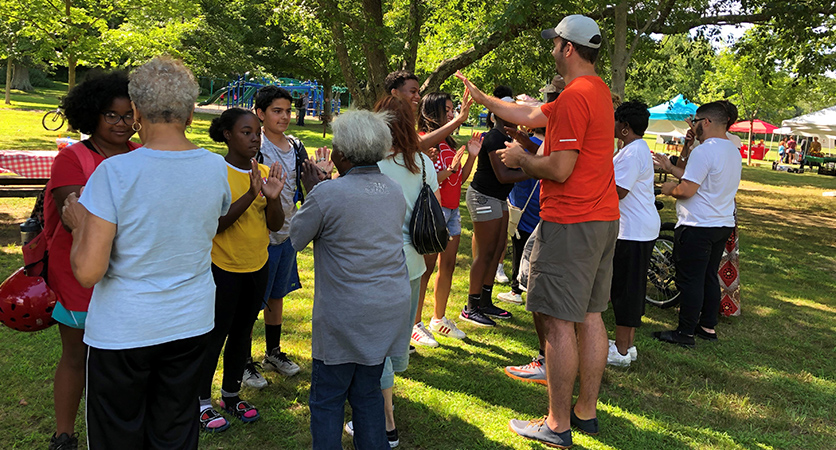 Sharing Stories
Last summer, after success in Central Falls, Tufts Health Plan Foundation support helped LISC take the farmers' market concept to four other RI HEZs – Bristol, Newport, Olneyville and Pawtucket. Each community participated in a four-week session that featured healthy eating and activities like vegetable pickling and gardening. They were small gatherings – no more than 27 participants at any single event – but just as many young people showed up as older folks.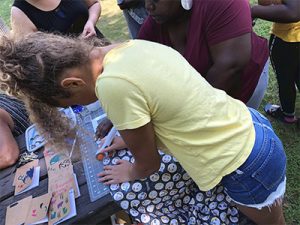 The groups were diverse in age and ethnicity, including African Americans, Narragansett Native Americans, Creole, Hispanic, Irish and French. "The Central Falls pilot program actually needed an interpreter, because it was so diverse," said Pauline Bellavance, executive assistant and special projects coordinator for LISC.
Many of the sessions also featured storytelling, led by R.I. Black Storytellers. "They have a way of capturing you and creating space for folks to tell their stories," Bellavance said. "You can't underestimate the value of all that accumulated wisdom."
The program's impact was palpable in communities like Newport, which has the lowest income and highest poverty levels in the state, noted Deanna Bruno, LISC's assistant program officer. Case in point: Participants from the first round in Newport not only returned for the second, they brought their friends.
Forming Lasting Bonds
Hands-on activities like storytelling build lasting relationships.
That couldn't hold truer for Maria, who got to share stories with several high school teens from her native Cabo Verde at the event. By the end of the day, she was calling them her "grandchildren," and they were calling her "pure happiness."
Bellavance shared a poignant reminder of why such programs are so necessary, "In a society where older people often are overlooked, when people see this happening they want to contribute."
Photos Courtesy of Local Initiative Support Corps(LISC) of Rhode Island.